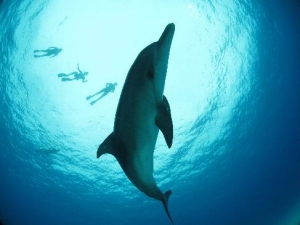 This photo is special. We were able to swim with this Bottlenose pod of about 20 dolphins for several hours. The baby was no more than a week old, it still had it's fetal folds and the dorsal was still bent over, The mother kept bringing the young one to each guest. To be able to experience the trust of the mother and the beauty of the baby, it was so special.
Bathing suits (several if possible)
Shorts
T-shirts
2 Towels-any type you wish-big, little, most guests like a beach and a regular towel
Sun Hat, baseball type cap will help keep 50% of the sun off your face
Some guests like to have a simple dressy outfit for the night out
Depending on time of year, a light wetsuit..3mm
White athletic type socks in case your fins don't fit perfectly
A rash guard is not a bad idea
Light weight rain jacket-wind breaker
SPF 30 or greater SUN TAN LOTION ---NO OILS --NO SPRAY LOTIONS--
Lip balm
SUNGLASSES...polarized really let you see whats under our crystal clear waters with good protection...
Insect repellent
Washcloths, toothbrushes, etc.
Motion sickness pills (if you feel that it is necessary for you)
Flip flops are the best shoes
We do recommend soft sided duffle type luggage as we don't have the space to store hard suitcases.
It is a good idea to bring a loose fitting pair of long pants-light cotton- and long sleeve type t-shirt to wear in the water to keep from burning-especially for the first few days. We spend a lot of time in the water and most guests don't feel the sun through the water and can get very burned on the back of their legs,arms and necks---this is an important item.
While not necessary, the following items may make your trip more enjoyable.
Many of the new inexpensive underwater cameras that are good to 30-50 feet underwater without a housing take great photos and video as well...we recommend the Olympus Tough series. Most of the photos you see here and on our FB pages were taken with that cameras. GoPros have been the most unreliable cameras for our guests by far.
Light blanket or sleeping bag for spending time on deck in the evening if you wish-- it's beautiful out here at night.
Reading material
Binoculars
Musical instruments
Journal for keeping notes.
What to not to bring: Illegal drugs of any kind -Spray Sun Tan Lotions or Sun Tan Oils.
Snorkel Gear...
We supply the best and most comfortable snorkel gear available-FREE of charge..we have found that it makes all the difference to feel safe and comfortable in the water with quality equipment--it really enhances your dolphin experience....we are happy to supply it.
If you wish to bring your own gear-please buy gear at a professional dive shop for the best quality giving fewer problems.
Fins... Recommended fins-Mares Volo Race or similar fin, we have found that they give you the most power while making your kick comfortable and easy. Fins should be closed heeled with no booties- if you already have them its OK. Try to buy the largest fin blade that will fit you. Many dive shops have been trying to sell the new split fins and the Force fins-they are expensive and don't give the resistance or power (which translates into ease of swimming) of the solid fin.
Snorkels... We now use the Tusa Imprex snorkel with the flexible bottom with a purge valve, we do not recommend any dry snorkels-our guests have had problems with the top getting stuck and not letting air in. That frustrates some people and can be dangerous if you're not comfortable in the water.
Masks... We use the Mares Alien freediving masks, they are very comfortable. If you are purchasing a mask. any mask that fits your face comfortably and stays on when you breath in without the strap around your head, preferring a low volume mask. Please try to purchase the best equipment that you can afford and if possible practice before you join us to assure proper fit and comfort. This is to enhance your experience with the dolphins.
As always, we will spend all the time that you might need to help you feel more comfortable and safe in the water. Whatever your skills or lack of....we will be there for you!!!
If you are buying online or don't have a dive shop near you we recommend Austin's Dive Center Inc, we buy all of our gear from them and they know what our guests need. Ask for Doug and let him know you are going with Dolphin Expeditions and Geoffrey. He can recommend just what you might need with excellent prices. Order as much ahead of time as possible in case something doesn't fit so it might be exchanged.
Austin's Dive Center. Prices will be better if you call.
Doug-305-665-0636
Toll free in the US- 888-665-0636
www.austinsdiving.com